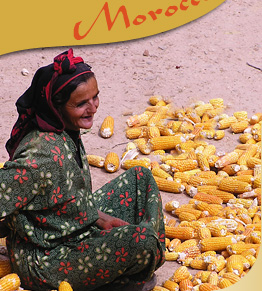 M o r o c c o & A n d a l u s i a
Just 8 miles across the Strait of Gibraltar lies a land of truly astounding contrasts, in scenery and culture, that have altered the artistic vision of Henri Matisse, Jacques Majorelle, Paul Bowles and countless others. Mysticism rooted deep in sub-Saharan Africa mingles with European chic, snow-clad mountains give way to the dunes of the desert, medieval adobe castles perched on outcrops of ocher rock guard verdant vales filled with date palms, apricot trees and rose bushes, while its millennium-old cities hide wondrous Moroccan architecture that rivals the Alhambra and busy bazaars brimming with life, scents and colors.
Over now nearly 30 years we have been unlocking this land's treasures and mysteries for Western travelers. Well beyond the beaten path of what is famed and known to all, with us you can explore the remains of what was Africa's greatest city until the 14th C., now amid the sands of the Sahara; see the remote lair in the Atlas Mountains of the Glaoui, a Berber chief who controlled most of southern Morocco until the mid-1950s; penetrate the heart of the forests of giant Mediterranean cedars, to spot a band of the indigenous Barbary macaques; examine prehistoric rock art sites in the desert or mountains; enjoy the very best of Morocco's renowned cuisine at select eateries and lounge like a Pasha at its splendid boutique hotels.
"The tours are run by Piotr Kostrzewski, who has lived in Morocco, speaks Moroccan Arabic, and knows how to get things done. He provides one of the best pretour information kits I've ever seen. Piotr's tours emphasize authenticity rather than typical tourist fare".
Dena Kaye in TRAVEL & LEISURE

A Moroccan gazetteer: Tangier | Rabat & Casablanca | Andalusia | Meknes & Volubilis | Fes | Marrakech | The High Atlas | The Middle Atlas | Taroudant & the Anti Atlas | On the Sahara's Edge | The Atlantic Coast | Jewish Heritage | Architecture | Festivals

Plan your trip: Sample Itineraries | Hotels | Trip Request Form | Morocco ABCs