Morocco & Andalusia: Tangier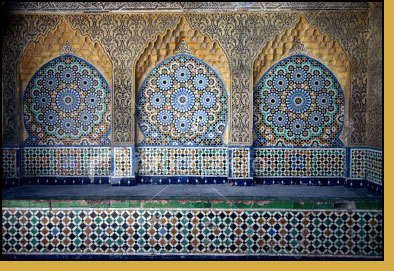 The den of spies and intrigue that was portrayed in Bogart's "Casablanca" was more apt for Tangier into the early 20th C. The northernmost of Morocco's great cities, within sight of the southern coast of Spain, Tangier was then a natural base for Europeans trying to exert influence within Morocco and for the sultans' emissaries who had to deal with them. The intrigue continued into World War II, as agents for various Ally and Axis powers mingled, desperate to find something about each other's strategies.
Tangier was founded by the Phoenicians as Tingis and became an important port for the Romans in the 1st C. BC, yet nothing remains of that settlement, buried under the growing new city. Its greatest luminary was Ibn Battuta, a 14th-C. scholar and traveler who in four journeys covered about 4 times as much ground as Marco Polo had — from Tangier East to India and China and South to Mombassa and Timbuktu, teaching at universities and advising rulers — yet remains virtually unknown in the West. In 1904, a local brigand, the Raïsuli, kidnapped supposed U.S. citizen Ion Pericardis, invoking Teddy Roosevelt to send the Marines to his rescue, an episode which many historians consider to have been the key to Roosevelt's successful re-election. The story was later (very loosely) adapted into the movie "The Wind and the Lion." Henri Matisse's sojourns in the city between 1912 and 1913 profoundly affected his artistic vision, with novel combinations of colors and shapes. And as of the 1920s, when Tangier was declared an "international city" by European powers, it drew hundreds of Western expatriates, primarily well-to-do Brits, attracted by the city's warmth, exoticism and ease of life, all within a short ferry ride back to "The Continent." Among them were socialite Barbara Hutton, American writer and composer Paul Bowles, who lived in Tangier from 1947 until his death in 1999, Scottish painter James McBey, and Malcolm Forbes, who housed the bulk of his infamous toy soldier collection in a lavish palace above the sea. And if you ever wondered where the word tangerine originated...
What to do
Aside from its spectacular setting, with its whitewashed buildings cascading down a hill to the coast, and its turbulent history, Tangier has little to offer travelers when compared to Morocco's other great cities. The primary reason to go there is the American Legation Museum inside the Kasbah. The building was the first foreign property acquired by the US government, in 1821, and served as our diplomatic post to Morocco for the next 140 years! It is also the sole National Historic Landmark outside of US territories. The Legation plays an important role in the city's cultural scene, hosting conferences and concerts, and has a much appreciated outreach program, most notably in teaching the city's illiterate women. Most of the building houses a wonderful collection concentrated on the city: works on Tangier by local and foreign artists, old maps of the region, historical documents, Moroccan rugs and even two of Forbes's miniature dioramas depicting famed Moroccan battles. There is also the Kasbah Museum, located in a former sultan's palace, which exhibits Moroccan crafts and a small archaeological section. Ten minutes East of town, the Malabata Cape offers a wonderful view over the city and on to Spain across the Strait of Gibraltar (the mint tea served at the Cape is among the best in the country).



A Moroccan gazetteer: Tangier | Rabat & Casablanca | Andalusia | Meknes & Volubilis | Fes | Marrakech | The High Atlas | The Middle Atlas | Taroudant & the Anti Atlas | On the Sahara's Edge | The Atlantic Coast | Jewish Heritage | Architecture | Festivals

Plan your trip: Sample Itineraries | Hotels | Trip Request Form | Morocco ABCs